10 Reasons Why Your Website Needs A Mobile Application!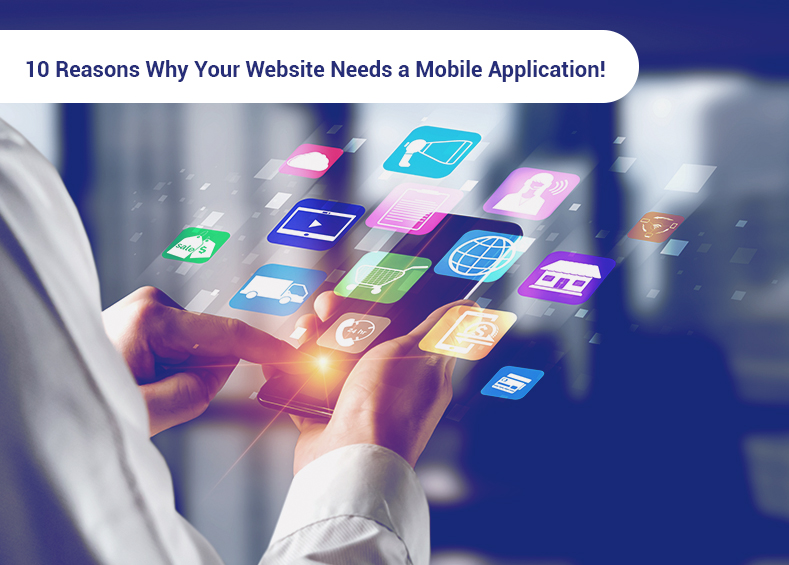 With the ever-increasing demand for mobile applications, it has become essential for businesses to have a mobile presence. Having a website for your business is no longer enough - you need to create a mobile application as well. A mobile app helps you reach out to more customers, increase engagement and build loyalty. Approximately 97 thousand mobile apps were released through the Google Play Store in October 2022. 21% of Millennials use an app 50 times or more per day. This data clearly shows that mobile applications are rapidly becoming consumers' preferred method of interacting with businesses. As a result, most businesses are now developing dedicated mobile apps to attract more customers.
If you're still not sure why anyone would want to create their mobile application, here are the top 10 reasons to start now rather than later.
In this digital age, it is important to be visible to customers at all times. Mobile apps are the perfect way to do that. With mobile apps, businesses can reach out to their customers anytime, anywhere. They can provide personalized experiences and offer exclusive deals and discounts that will make customers more likely to come back for more. By incorporating App Marketing strategies, you have the opportunity to increase the visibility of your app in search results and its ranking in organic search.
Mobile apps also allow businesses to stay connected with their customers even when they are not physically present in the store or office. This helps them build relationships with their customers and increase customer loyalty over time. In short, mobile apps are an invaluable tool for businesses that want to stay visible and connected with their customers at all times.
Creating a direct marketing channel is an important part of any successful business strategy. Mobile apps are an effective way to reach out to customers and promote your products and services. With the help of mobile apps, businesses can easily create a direct marketing channel that allows them to communicate directly with their target audience. Mobile apps can be used for various purposes such as creating loyalty programs, sending notifications, offering discounts, and much more. By leveraging the power of mobile apps, businesses can create an interactive platform that will help them engage with their customers in a more meaningful way. Furthermore, push notifications can help you persuade users to interact with your company.
The use of for customer service not only enhances the customer experience but also helps companies to improve their efficiency and reduce costs. Through the use of mobile apps, companies can automate certain processes such as order tracking or delivery updates, which can help save time and money. Additionally, mobile apps can be used to collect customer feedback in real-time which helps companies identify areas for improvement in their products or services.
With an impressive clientele, Zendesk ranks as one of the top cloud-based customer service software solutions.
With the ever-growing competition in the mobile app market, it's essential to stand out from the crowd. To do this, developers need to ensure that their apps are not only functional but also aesthetically pleasing and user-friendly. Creating a unique user experience is key to success in the mobile app industry. Developers should strive to make their apps as intuitive and engaging as possible by using innovative technologies such as and Machine Learning (ML). By leveraging these technologies, developers can create apps that are more responsive and tailored to users' needs. Additionally, they can use analytics tools to gain insights into user behavior and preferences which can help them create better experiences for their users. This will eventually set them apart from their competitors.
By utilizing the latest technologies, businesses can create mobile apps that are fast, responsive, and secure. This will help them provide users with a better experience and increase customer satisfaction in the long run. Additionally, businesses should also focus on creating intuitive user interfaces and making sure that all features are easy to use and understand for their users. By doing so, they can ensure that their mobile apps offer a great user experience for all users.
For instance, by integrating your app with , you may embed your services into gadgets like smartwatches and air conditioners to create a sophisticated services ecosystem. IKEA has released the IKEA Place smartphone app, which enables users to arrange furniture in a virtual 3D living environment and see how it will appear.
Mobile apps have opened up a world of new possibilities for businesses to generate revenue. With the right strategy, it's possible to monetize your app and make it a reliable source of income. From in-app purchases and subscriptions to ads and affiliate marketing, there are many ways to monetize your app. All you need is the right strategy and an understanding of the different options available for generating revenue from your mobile app. With careful planning and execution, businesses can tap into this potential and create sustainable sources of income from their mobile applications.
Instant feedback is an essential part of customer service and engagement. With mobile apps, companies can now provide customers with a way to interact with them in real time. This allows customers to get the answers they need quickly and easily, as well as give feedback on the product or service they are using. By responding quickly to customer inquiries, companies can ensure that their customers are satisfied and engaged with their brand.
In today's digital world, mobile app services are a great way to help businesses build their brand. By leveraging mobile apps, businesses can reach more potential customers and engage with them on a personal level. With mobile app services, businesses can create custom experiences for their customers, provide personalized content and offers, and measure to gain valuable insights into their target audience.
By developing fresh concepts to draw in customers and capture their attention, a firm constantly seeks to reinvent itself. Using a single channel, a mobile app is leveraged to provide offers, notifications, and information to clients. A customer's answer can be used to conduct a variety of assessments, prompt feedback, and evaluate customer trends, all of which help the advertising plan.
In short, mobile apps will assist in reducing the expenses your company would typically invest for the promotion of your brand. Your company wouldn't have to allocate additional funds for the printing of billboards, posters, brochures, leaflets, and newsletters that will be given to potential customers. Your company will incur additional costs if you need to pay agencies for the efficient distribution of these physical products.
You can get in touch with us to request if any of these thoughts prompts you to create your own mobile application. team of skilled experts will exert every effort to deliver a final product that meets or exceeds your expectations.
Reach out at info@openteqgroup.com to kickstart your digital journey!